New litter sired by Grant! They are one week old today. 11/22/10 3 boys and one girl. 2 sables, 2 tris, and NO :-( there isn't a sable girl. Read on if you are interested! 2 are reserved, only one left.
<![if !vml]>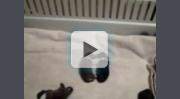 <![endif]>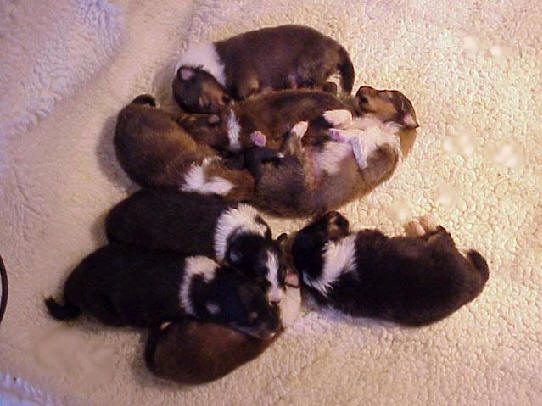 Looking for that new family member? You may have to wait a while: but it's worth it. Here's some general information about our policies at Springmist. Springmist is owned and loved by Cathi and Mike Gorman, and our partner in Springmist, Gail Chancey.
First, and foremost, please understand that we breed shelties to improve the breed and only do a breeding with the hopes to produce a better sheltie: for the show ring, in health, and in personality. To accomplish this, we test all our dogs for a number of inherited diseases to ensure that we only breed the very healthiest representatives of the breed, we show our dogs to ensure we only breed the best representatives of the breed, and socialize our dogs to ensure that they have the best personalities possible. That all said, we aren't able to always tell you immediately "what's available" as a pet in a litter until they are at least 6-10 weeks of age and we can determine which dogs merit going on into show careers and which pups will be your loving pet! HOWEVER, we can assure you that they are healthy, well bred, and happy puppies, all. Many people realize this and give us a deposit against a litter, thus ensuring that they will receive the first (or second, or so on) pet that becomes available from a litter. This is the way we prefer to work things out, as it lets us get to know you a bit more and you us, and we can be sure that the pup is a good match for your situation. Generally we are NOT able to accommodate the "impulse" buyer who just decides one weekend that they have to have a sheltie and just can't wait. Following are some commonly asked questions.***Please note***Springmist always reserves the right not to sell a pup to a home if we feel, after screening , or anytime during discussions, that the placement would not be in the best interest of the puppy.
Where are you located?
We are located in North Texas in the town of McKinney, just off Hwy 75 about 30 miles north of downtown Dallas. The mailing address is: 1910 Meadow Ranch Road, McKinney, TX 75071.
Are girls better than boys as pets?
NO. Do you like women better than men? Depends on their personality doesn't it? We require all pets to be sold on a spay /neuter contract with limited registration which means that all they have to worry about is being YOUR PET.
Can I specify sex and color?
Sure. But I rarely can "cook" them to order........so your chances dramatically decrease if you become picky about exact markings. We aren't as picky about markings as we are lush healthy coat and stamina, personality, and health. Just remember, if you send us that request marked only "sable/white female" as 95% of everyone does; your chances decrease dramatically of actually getting a pup. There are so many more colors available and shown today, with of course boys being 50% of those (approx), that there is no way I could supply everyone with a sable/white female "with a full white collar" (show breeders rarely look at markings). So please consider this; do you want a beautiful, healthy sheltie with a lush show coat in any color? Or are you willing to search for that sable/white female from any puppy mill and when they grow up they don't look anything like the well bred pups from quality breeders? Last year I placed ONE sable/white female. That's all I had.
How much do you charge?
Our pets are currently $950, a deposit of $150 is required which is part of the purchase price.
Do you have guarantees?
Yes, we have a contract that specifies complete health guarantees. Of course, all circumstances involve a refund in all or part of your purchase price with the return of the puppy. After submission of your request, and our subsequent approval to send a deposit, you should carefully review our contract (link below) that you will sign when you pick up your puppy. Please note that our contract is copywrited.
(Adobe Acrobat reader needed)
What colors do you breed?
We breed shelties in all colors; tri, bi, blue, and sable. All make equally delightful pets.
Do you sell older dogs?
YES. This is an important point to understand; many times we "grow out" a puppy for the show ring only to find that puppy gets either a bit too large, too small or perhaps some other minor thing prevents them from being a good candidate for the show ring. Our loss and your gain....for you get a top quality pet that was raised well and socialized well and already made it through the puppy stages!! Prices for these dogs are set by personal discussion.
Please fill out Our form and submit to us, and we will contact you about your deposit. (you will need explorer 8)
If you need to contact us, please use the email link on the home page or you may call us at 214-392-7461